For this project, we have sought to learn about the life history of artisans and how their experiences shape and affirm their Sefrioui identity. With the purpose of drawing the most from the interviewees as they freely unfold accounts of their lives, the setting was mostly informal and the questions were open-ended; in fact, we believe that this informality was also crucial in easing the nerves of both the interviewee (who was flustered by the sudden visit) and the interviewer themself so that the exchange was an exchange between two parties on equal grounds with the ethnographic authority (if we may call it so) relegated to the background.
As the work was divided between groups, this essay will be dedicated to one interview; our artisan is a traditional tailor (خياط تقليدي) named Jawad Al Hasnaoui. He is a 35-year old hardworking, enthusiastic man who has devoted 25 years of his life to this craft, and whose shop is called  خياط البسمة; that is "The Smile's Tailor", which we believe reflects his good-natured and gentle, albeit timid, demeanour. Indeed, a smile lingered on Jawad's face though it held a hint of nervousness.
In Morocco, there is a saying that urges children to follow the craft of their parents or fathers (typically, in traditional Morocco, the men were the ones who worked and participated in the public sphere!) In Darija, the proverb is "tbaâ lherfa d bouk layghelbouk!"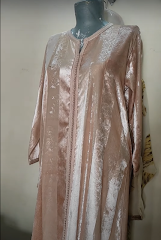 Jawad, however, chose his own path and was the first amongst his family to take up traditional tailoring as a craft and art form. In fact, we can call him a pioneer amongst his family, for his cousins were inspired by him. Still, tailoring as an occupation and income source is no easy path. Much effort, time, skill and resources are required to create traditional clothing such as Djellaba, Abaya, Qmiss and Kaftan, and the wedding clothes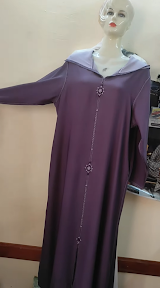 known as Tekshitat (or Tkashet as another plural form).
In other words, so demanding and delicate is this occupation that the individual has to be fully dedicated to fulfilling his duty as a tailor and satisfying his customers. It is worth noting that these customers are often impatient, set unreasonable deadlines, and are undeniably hankering for the newest, most unique and appealing designs. They want the best, and the tailor has to offer the best in order to both please and keep his clientele; after all, a satisfied customer would pass on the word, be it to friends or family members, which would then attract other eager customers and would bolster his reputation. As such, reputation in this domain is crucial.
Most of these tailors begin with nothing. They start with meagre capital and no reputation so  they have to crawl out of invisibility to establish themselves and secure a decent and fulfilling income. It was implied that apprenticeship is a crucial, and almost mandatory, stage of a tailor's career. It is a common starting point, through which young and eager apprentices develop their skills as they are supervised by experienced craftsmen. Jawad himself began dabbling in tailoring when he was a child, but he had a more informal and personal education; he, too, took care of four apprentices and is expecting more to join him in the future. Additionally, we learned through Jawad that there is now official training supervised by the government to aid the new generation who are interested in this craft. It is worth noting here the government's involvement in the country's artisanal crafts as cultural heritage and its charitable initiatives to support the artisans.
Jawad, in fact, received a nudge from a governmental programme that enables craftspeople to rent shops for a reasonable amount as part of an association; to clarify, he referred to the space as مجمع with the association named فندق المغزل = The Spindle's Fonduk. Upon this premise, Jawad emphasised the fact that he had started from nothing, and thus the opportunity was indeed helpful, although it was not a one-way ticket towards fulfilment. Jawad had to gradually, and with faithful patience, build a reputation for himself as people would not trust a beginner whose name was still unknown in the market.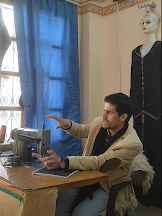 Jawad regarded his flexibility and innovation as reasons for the slow but sure progress of his situation and artisan status. He confessed that he preferred not to limit himself to one style and thus hinder his potential; as such, he would always try different things, challenge himself, and study the oldest and newest trends in order to complete his orders (even the unconventional or modern ones) with impeccable perfection. Still, his expertise was traditional female clothing. After hearing this, we reflected upon the gender dimension of his craft and asked him how he felt about making  traditional male clothing; his answer nonetheless was simple and logical: if men sought his work, especially from friends or family, he would try to deliver but would not advertise himself as a tailor of male clothing. As a matter of fact, this was the specialty of other tailors belonging to the same association and sharing the same space, and therefore the matter referred to a code of honour which he abided by.
Therefore, Jawad seemed more comfortable making traditional female clothing, more so because the manifold styles and plethora of fabrics and threads gave him room to experiment and allow his creativity to shine. In the attached picture, he showed us a design made of wool that could be draped over the neck (it was a request by a designer whose full name was not clear in the audio.) To him, it was one of the most challenging pieces he had ever made. Nonetheless, this example showcased his unwavering dedication to the craft – a dedication that was further fueled during the pandemic.
To illustrate the aforementioned statement, Jawad recounted how the coronavirus pandemic impeded his progress. During that period, he was haunted by a kind of stagnation; resources were scant, and seldom did clients seek him out since a nationwide lockdown was in place. Adaptation was a must though, and Jawad would travel to Fes to get the necessary materials or order from other cities to finish one piece of clothing. Additionally, he often visited houses in order to get the measurements and deliver the finished products himself. Consequently, he earned both the satisfaction and loyalty of his clients at that time.
On a different note, the mention of Fez was intriguing, and we wished to learn more about its significance. When the interview shifted towards the cultural aspect of his craft, Jawad enthusiastically stated that both Sefrou and Fez as sites of cultural production carrying an undeniable importance with regards to artisanal crafts. Actually, he referred to Sefrou as the capital of Laâkad (for example, the kind of decoration running down the middle of Jellabas as shown in the attached picture). While walking around the Old Medina, we noticed various shops specialising in these decorations as their manufacture is an art of its own, thereby proving the importance of such small yet colourful parts making up a Djellaba. Needless to say, a Djellaba would not be called one without them. 
That being the case, we can now recognise the making of traditional clothing as an arduous process requiring diligence, devotion, and delicacy. As such, it remains a source of pride and fulfilment for our artisan, Jawad. Such is his commitment and passion that he could not see himself choosing a different job. To put it simply, he loves what he does and hopes to continue doing it for as long as possible. Furthermore, he wishes to contribute greatly to this craft – to be a pioneer who witnesses and propels the advent of Moroccan Sefrioui Traditional Artisanship beyond national borders. Although, in reality, Jawad is slowly making a name for himself, especially after his participation in a kind of celebration/exhibition organised by فندق المغزل. The creative tailor drew from both modern and traditional styles to present visually appealing and culturally creative clothing pieces (Kaftan and Tekshita). Moreover, in his early days, he and five other artisans participated in a project to design the longest Djellaba across the nation, which used 36 metres of fabric and ended up being 8 metres long.
Lastly, Jawad alluded to the importance of technology with regards to tailoring. While these tailors embrace and draw immense pride from the traditional aspect of their craft, they still admit that technology has facilitated and eased the arduous and time-consuming process of tailoring. As such, these artisans spend less time and effort on the making of a single piece of clothing. However, it is worth mentioning that there are women, usually uneducated  stay-at-home mothers, who take up the craft of hand-making traditional clothing. Thus, they secure a unique but demanding source of income.
To conclude, Jawad, as a Sefrioui artisan who specialises in tailoring, displayed a solid sense of attachment to Sefrou and its culture, wishing to add to its notable heritage in his own way and through his own craft. In a sense, his participation in the beauty pageant of the cherry festival is but one example of this Sefrioui's sense of belonging and personal identity