Preserving Gender Roles through Contemporary Labor
In recent years, Morocco's gender labor development has yielded great results at the level of legal
advancement. The collective lands in Morocco belong to certain ethnic groups and are governed
by the customary practices of each group. These lands have traditionally been used collectively.
Collective land was the most concentrated area of existing land and natural resource reserves in
Morocco. After the twenty-first century, the rate of sale of collective land to public and private
groups accelerated. The land was allocated to family groups and, more recently, to heads of
household, i.e. often inherited by men. With respect to Muslim faith requirements, Muslim men in
Morocco are obligated to provide for their families and are therefore the inheritors of most family
wealth. This division of wealth can create collective insecurity for women who are unemployed,
widowed, divorced, or not under the financial support of a trusted male family member.
Through the efforts of local women's associations, the Moroccan government issued an agreement
recognizing the compensatory rights of women. This is undoubtedly a milestone on the road to
gender equality in the local gender. At the same time, a number of laws protecting women's rights
and interests are constantly emerging, such as the Law on Returning Violence. While there were
still some loopholes in the law, the progressive rule of law has given Moroccan women the
opportunity to advocate for their rights as equitable participants in society. Under the protection
of the law, women bravely fought for equity in education and the labor force.
The ideal Muslim breadwinner in Morocco protects his family – and particularly the women –
from unnecessary social exploitation and prefers that women do not need to labor for material
security. A woman should instead feel financially supported as she fulfills her homemaking
responsibilities. Many Moroccan women have cultivated artisanal skills that not only complement
their homemaking duties but also benefit them socially and financially. Button-making is one artisanal skill women have learned to harness for their benefit.
Amina Yabis is a Button Craft Artist from Morocco. Photograph taken from the International
Craft and Art Work Facebook page.
Susan Schaefer Davis's anthropological writing, "Moroccan feminism at the grassroots level"
illustrates the story of Amina Yabis who was a typical Moroccan housewife married to a
schoolteacher and mother of four boys. With the support of her husband and family, she decided
to break out of the narrow role defined for her by Moroccan society and help women play a part
in the economic and political life of her community. She formed a women's craft association called
Golden Buttons to market the hand-woven buttons women had been making in their homes for
generations. Economic success led to a literacy campaign for women and more economic
opportunities. In addition, these hand-woven Moroccan buttons are used to decorate the djellaba
(a traditional Moroccan robe), kaftans, and traditional wedding attires. The buttons are usually
applied in a tight row down the front of a garment from top to bottom. In short, buttons are
commonly found on the traditional jellaba or robe that men and women wear.
Of great importance is the encounter between Davis and her interlocutor. Yabis tells her:
"You know I've always liked all kinds of handwork. When I was a girl, I learned gold
thread embroidery. Learning to use a thread and a needle changed my life. I didn't go very
far in school because my family was poor. But my craft gave me many things. It changed
my future and my children's. That's why I tell women, any kind of work that you do, value
and respect it, and it will give back to you."
Although Yabis began her co-op in 2000, it was according to her, "the first women's co-op in
Sefrou." Today there are about twenty co-ops thanks to the social impact Yabis trailed behind. It
was a long road to convince the women and their husbands to trust her; and at first, only widows
and single women participated. Amina offered to pay the women more for their buttons than the
tailors were offering. Today, the co-op has forty-two members, both in Sefrou and in outlying
villages."
Photograph (above) was taken from the International Craft and Art Work Facebook page.
Amina soon realized that the tailors who bought the buttons made a big profit on the women's
work and decided to stand up for the women to help empower them. Furthermore, this
entrepreneurial spirit led them to market their products outside Morocco in Europe and the USA.
Button-making was once upon a time a thriving marketplace for the Jewish population before their
immigration to Israel in the 1950's and 1960's. It is interesting how Sefroui women inherited the
economic prosperity of another group who peacefully coexisted among them. Button-making is an
economic testimony of cultural diversity and gender labor progression. The art of button-making
is a negotiation of culture between past and present – and today, it is a negotiation of labor
opportunity as well.
Lawrence Rosen's scholarly piece "The Negotiation of Reality: Male-Female Relations in Sefrou,
Morocco", argues that "a man and a woman, each of whom maintains a rather different view about
the nature of the sexes and their respective social roles, and who, when they are brought into direct
confrontation, must now engage in what might be called a process of "bargaining for reality."
(Rosen 2013). This is a very significant idea because a job is not about a profession that is
originally done by a female or a male. Rather, it is about who wishes to contribute what. In short,
both genders need to be prepared to listen, argue, and negotiate their different views of the situation
as Lawrence Rosen would say. (Read Susan Schaefer Davis for more information on button making in Morocco).
Depicted here is a marketplace in Sefrou – photo found in the course's SMM folder in Google
drive. The photo is most likely after the year 1907 when colored photography became available on the market.
The image reveals the prominence of men in the marketplace just a century ago, with women
passersby extensively covered to preserve modesty. Although men appeared in their market stalls
to sell items, women often manufactured many textile items in the protected environment of their
homes. Clothing, rugs, decorative items, and other textiles were arts commonly produced by
women and disseminated by men.
https://thefabricthread.com/podcast-episode-4/ The attached link displays a podcast with Jess
Stephens titled "The Fabric Thread Podcast".
In the photo above, elaborate buttons beautifully deck the kaftans. The women in the Cherry Button
Cooperative created the colorful buttons that were added to the white scarves.
The Cherry Button Cooperative was created by local Sefrouian resident, Amina Yabis, to engage
women in a craft historic to its region. Yabis views button-making as a bridge for social
connection, stating that "it is human nature that people are coming outside their houses and hanging
out at a certain time of the day when their domestic duties are done."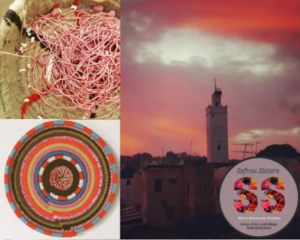 Photos by Jess Stephens posted on: https://thefabricthread.com/podcast-episode-4/
Jess Stephens believes that buttons are emblematic of women's history in Sefrou. The buttonmaking process requires two essentials: material and time. Firstly, devising buttons requires
colorful spools of thread that must be made by other craftsmen (or women) or purchased at the
market. Secondly, women must have the luxury of time after they have fulfilled their familial
duties to focus on crafts. Women's involvement in craftwork boosts a region's economy and
stabilizes a family's income. Women's social participation boosts their overall status and demands
equal rights. For this reason, Jess Stephens created the Sefrou Sisters textile business.
At the time of this podcast, the Sefrou Sisters initiative had 8 members. They have been working
on expanding the initiative and selling their products to wholesalers who will purchase their
products at a high value. Selling the buttons at a higher value will give greater worth and
empowerment to the labor Moroccan women are contributing.

https://thefabricthread.com/podcast-episode-4/
Spools of Rayon thread used in the craft of button-making are sold throughout Sefrou by
wholesalers.

https://efe.org/media/news/efe-maroc-conducts-all-female-trainings-for-seamstresses-in-fez-andsefrou
In the summer of 2021, the tailor shop (above) trained young women from Sefrou and Fez to
become seamstresses in an effort to empower women professionally.
https://www.moroccoworldnews.com/2011/09/8883/moroccan-women-in-the-workplace
According to Lisa E. Laskaridis from Morocco World News, only 28% of the labor force consists
of women (2011). Although women's labor in social sectors has been more accepted in the twentyfirst century, it is still met with resistance in certain areas where Islamic traditions dictate a
community's way of life. Non-domestic labor is seen as a form of female exploitation, and
women's vulnerability in public often reflects a deficient patriarch incapable of sufficient
provisions.
Link to Interview:
02b9ae77-0394-4604-aa7a-4f4ede5b7353
The narration for the interview:During the pandemic, he decided to take a new journey where he broke all the established
rules of society. He used to work as a banker in fez, yet he decided to resign in order to
pursue his childhood dream. Since he was young, he always dreamed of being an architect
or an artist, and by opening his small shop in Sefrou, he decided that it is never too late to
live his dreams. During the conducted interview, he showed me the variety of eco-friendly
products he sells. He works Hand in hand with the local artisans. He provides them with
Moroccan-modern designs and their roles rely upon bringing life to the latter. One of the
main reasons why he chose Sefrou over fez is that he was seeking refuge in the arms of
nature and in the therapeutic environment that is surrounded by a calm atmosphere. His
concern is that the local artisans with whom he works spend many hours to produce one
product yet for a little amount of money. He tries his best to buy from them as much he
could even if the demand of his sales is very low.
While conducting this interview with him, it was very clear that he was very optimistic and
even if he does not gain much from his shop, he would not take back his decision back.
According to him, it is only fair to enjoy the value of the traditional products that held both
the heritage of a whole culture and to protect the environment from plastic damage.
Written by:
Zehra Al-Timimi Rizvi
Fairouz Saraj
Oualid Almaghouz
Yafet Dawit
Wenxuan Dong
References
Ansie. (2021, May 30). Podcast episode 4: Jess Stephens. The Fabric Thread. Retrieved May 10,
2022, from https://thefabricthread.com/podcast-episode-4/
Efe-Maroc conducts all-female trainings for seamstresses in Fez and Sefrou. efe.org. (n.d.).
Retrieved May 10, 2022, from https://efe.org/media/news/efe-maroc-conducts-all-femaletrainings-for-seamstresses-in-fez-and-sefrou
Ennaji, M., Sadiqi, F., & Vintges, K. (2016). Moroccan feminisms: New Perspectives. Africa
World Press.
Moroccan women in the Workplace. https://www.moroccoworldnews.com/. (2011, September
6). Retrieved May 10, 2022, from
https://www.moroccoworldnews.com/2011/09/8883/moroccan-women-in-the-workplace
Mowchan, S., & *, N. (2019, May). Global rights for women in Morocco. Global Rights for
Women. Retrieved April 26, 2022, from https://globalrightsforwomen.org/mena/globalrights-for-women-in-morocco/
Thelwell, K. (2020, October 31). The status of Women's rights in Morocco. The Borgen Project.
Retrieved April 26, 2022, from https://borgenproject.org/womens-rights-in-morocco/