As one of the most recognized symbols of Morocco's Multiculturalism, Sefrou once embodied the spirit of diversity with acceptance, openness, and amity as its pillars. This renowned plurality resulted from cultures, traditions, creeds, and languages intermingling freely and peacefully; however, what remains now is a dwindling Jewish heritage and manifold accounts of the harmonious lives led by Sefrou's multi-ethnic populace. In fact, a simple walk along the streets of Sefrou would connect the person to its long and riveting history, or reveal an intriguing story about its origins.
On these grounds, this exhibition aims to shed light upon Sefrou's uniqueness and charm as well as draw people to it by using the stories and narratives belonging to Sefrou.
The story of Mellah
In Sefrou, you can find a place that harbors a myriad of cultural elements, both material and non-material, and that is not bound by the norms of Moroccan Islamic Tradition. This place is called the Mellah, and its existence originates from the history of the Jews in Sefrou.
The earliest history of the Jews in Morocco can be traced back to the late XIVth century, when a group of Jewish refugees moved from Spain to Morocco. In the case of Sefrou, however, the matter is not that transparent as the Jews claimed that the local Jewish community had already existed during the VIIth century in Sefrou, when it was conquered by the Arabs. The town itself seems to prove it, for it is said to be older than Fez as it was founded at the end of the VIIIth century. Leaving aside this illusion, record history has supported that the construction of the Mellah was ordered by the Marinid sultans in the XIVth century, which confirms the size of the Jewish population at that time.
As far as stories go, back when Jews and Muslims lived together in this multi-ethnic city, alienation and segregation had no home within that exemplary community. According to a weaver named Mustapha, Jewish and Muslim families lived in the same neighborhood yet led different lifestyles and adhered to distinct creeds. Their differing faith, however, was not a source of enmity or prejudice. Rather, they peacefully lived under that umbrella of acceptance and often exchanged homemade or traditional dishes like the pastry known as Fekkase. Food was then a means whereby communication was initiated and bonds were strengthened. Music, too, played a part in bringing the two peoples together as Mustapha's father often joined his Jewish neighbors and peers in Malhun.
By 1980, the former residents – the Jews – left Sefrou. The Mellah nonetheless still exists inside Sefrou as a memory of the old days; a lost past that has been immortalized in pictures, that lingers in the memories of the people who inherited Sefrou, specifically their ancestors' stories of a thriving pluralistic 'Jewel of Morocco', and that also awaits new residents or visitors to charm.
The Tomb of Sidi Ali Bousergine
The tomb of Sidi Ali Bousergine, at the top of a small mountain overlooking the city of Sefrou from a distance of about 3 km, is known for its continuous movement during the summer months of July and August. It belongs to a person named Sharif Al-Idrisi who lived in the 16th century. He left Siraghna in his middle age before residing in Sefrou, wherein he spent the rest of his life.
Nowadays, the tomb of Sidi Ali Bousergine has become a famous and important (holy) place for Sefrou, and girls often visit his tomb to get out of the state of "spinsterhood". In fact, the story of this tomb has reached many ears, essentially attracting visitors from various neighboring cities as these people seek blessings in the hopes of overcoming the obstacles they face in life. It is also worth noting that women are among the most popular groups to visit this shrine.
Folklore about Hammam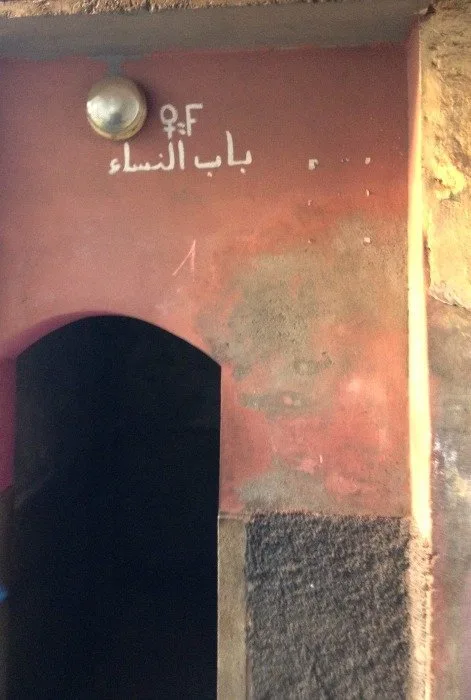 The Hammam is a public bath designed to fulfill both hygienic needs and social interactions for Sefrou people. As a part of their daily routine, women often frequent the Hammam on a weekly basis for a thorough cleansing, using traditional soups involving ghassoul clay and olive oil-based soap.
There's also an interesting hearsay about the hammam; it is said that it has benefits for the treatment of weak people, especially pregnant women and old ones. Consequently, the Hammam is also recognized as a healing experience for new mothers, who would be taken by their close feminine relatives for a relaxing bath that detoxifies their bodies and provides their strength.
Prepared by:
Nouhaila Laaroussi
Wiam Bhar
Zehra AI-Timimi
Zineb Yadane
Yue Luo